Informationen zum Turnier sind auch in Deutsch verfügbar.
The king's herald announces:
Seyd greeted, friends of the flying plates,
to Tübingen on 20 and 21 July of this year again the traditional Maultaschen-Turney wilt beest held!
On two grassed squares the knightly companions wilt compete in the art of flying plates to winneth the favor of the quite quaint Sieglinde von Hohentübingen and the honor of the Turney winneth.
Coequal off the Tourney Square, the bravest of the noble warriors and ladies wilt beest able to prove themselves in the notorious barley juice runneth, which in addition to daring and fighting spirit eke calleth for stout gulps.
But the brave knights art not only hath given a heated duel. After completing their sports, the municipal outdoor tub is just a stone's throweth hence from the Turney spectacle and wilt bringeth refreshment and relaxation to thy humor.
And t'will grieve, who in the evening immediately embeds himself on his bed-camp. Because a huge festival wilt rise, a nocturnal spectacle without equal, which no dance leggeth can standeth and no tankard leaves dry. Beest sure, thee doth not wanteth to miss that!
Play mode & match schedule
7vs7 real mixed.
Match schedule for the Maultaschen Cup 2019 is available here.
Teams
We are happy to welcome the following teams:
Celtics (Ditzingen)
Maynooth
Colorado (Karlsruhe)
Ex-Maultaschen & Friends
Team Südsee (Konstanz)
Drehst'n Deckel (Dresden)
(Ver)Röschtis (Basel)
Les Discjonctés (Dijon)
ULMtimates (Ulm)
Friss die Frisbee (Geretsried)
How to get there & around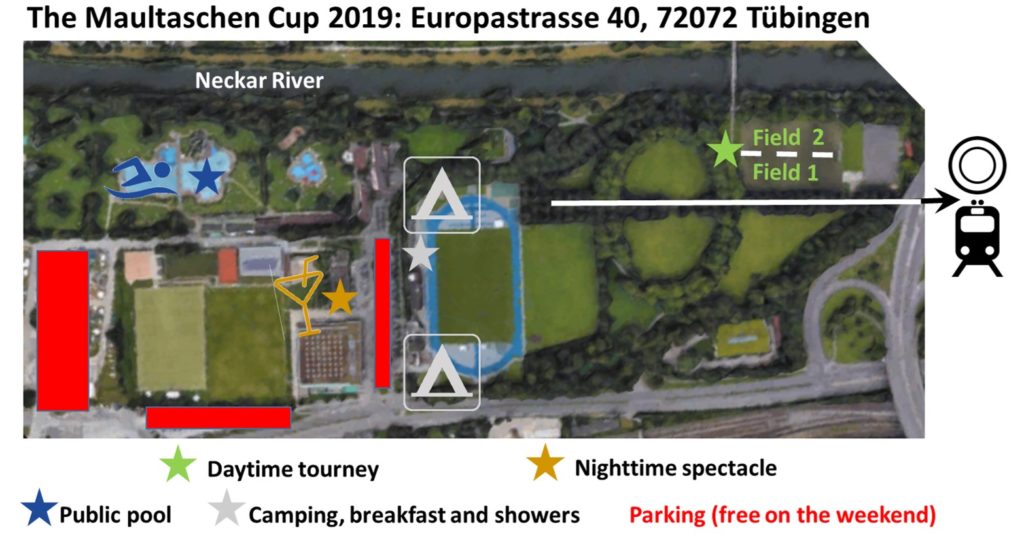 By car:
SV03 Stadion
Europastrasse 40
DE – 72072 Tübingen
Across from the Paul Horn Arena.
By train/bus:
The SV03 stadium is just 15 minutes of walking distance away from the main station. Alternatively, take the bus line 18 (to "Oberndorf Feuersee/Rottenburg am Neckar") or line 19 (to "Bühl") from the main station till "Freibad".